Settings
To make changes in the application
Open sidebar.
Click the "Settings" tab.
When you open that tab you will be able to see the following options for customization. There is an explanation of each setting in detail.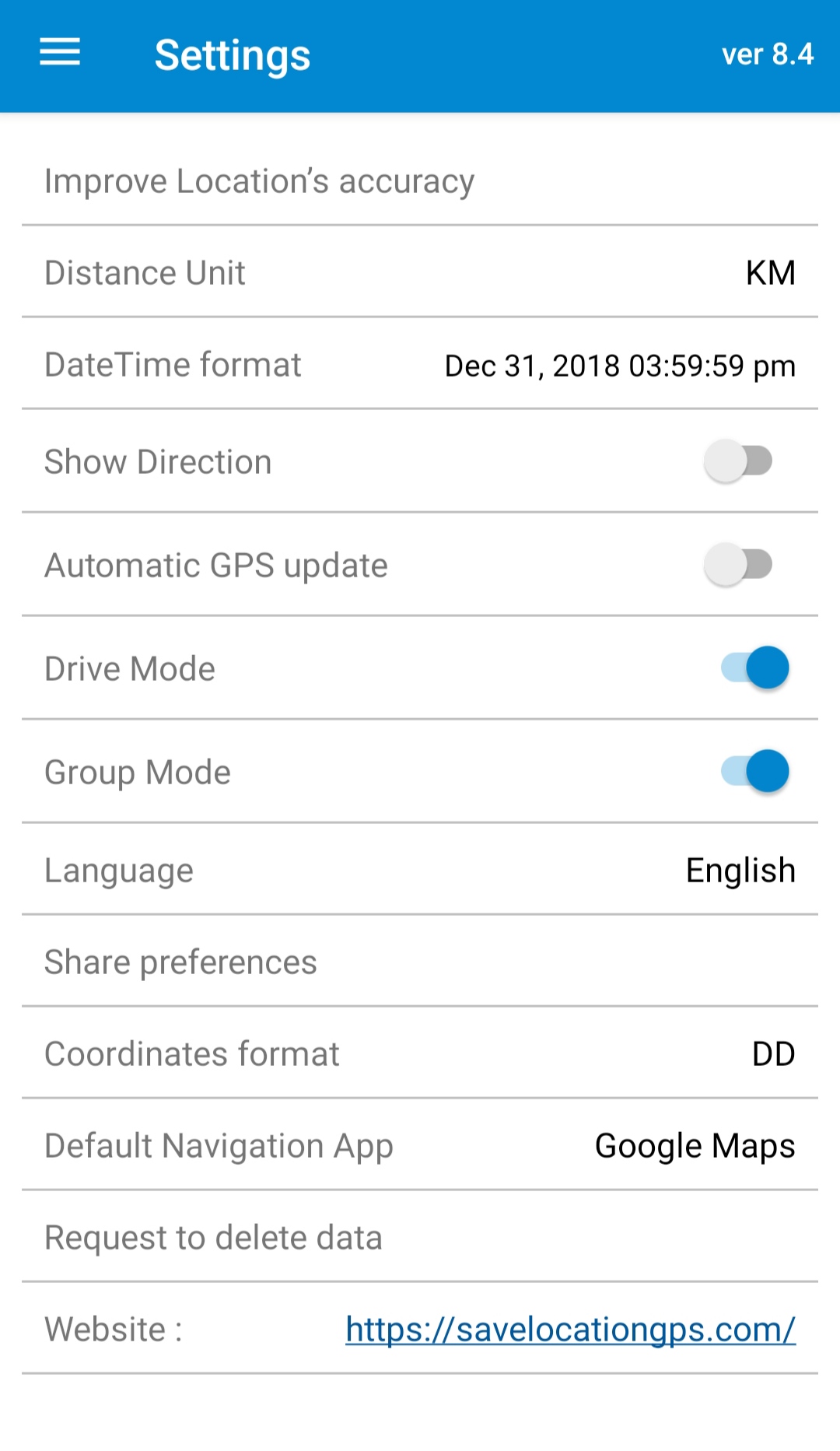 Improve Location's Accuracy
This option is used to improve the accuracy of location in the application. Click on the option and this will lead to guidelines by Google. You can check them and follow them. Video is also available for guidelines on the same page.
Note - This option is not available in IOS
Distance Unit
This helps to measure the distance you have covered.
These units are supported in our app :
Date and Time Format
You can select a date and time in a format according to your choice.
Supported formats :
yyyy-mm-dd hh:mm:ss

dd-mm-yyyy hh:mm:ss

[month day, yyyy] hh:mm:ss

yyyy-mm-dd hh:mm:ss am/pm

dd-mm-yyyy hh:mm:ss am/pm

[month day, yyyy] hh:mm:ss am/pm

Show Direction
It helps you to see directions on a map. You can enable or disable it.
Automatic GPS Update
Automatic GPS update automatically updates your location on the map. You can turn it On and Off. If it is On, your location will be updated automatically if you close your app and open it again. If it is Off, your location will not be updated. You will have to press the "My Location" icon on the map to go to your current location.
Drive Mode
Drive Mode saves location with one tap when you are driving. It also has two options ON and Off. If it is turned off you will be allowed to add some details in it like location name, contact, note, and group. You can also add images if you want. If it is turned on your location will be saved directly in the All in saved locations option.
Group Mode
In Group Mode you can arrange your locations as per your choice. If the group mode is turned Off and you save the location, you will be shown the option to make a new group or add a location in "All". When group mode is turned On your location will directly be saved in "All".
How to use group mode?
Click on group mode while saving location, and you will be able to select group. You can add a location in the group of your choice and make another group. By default, all locations will be shown in the "All" option. You can also choose a color for your group.
You can open saved locations to check the group of the locations and other locations too.
Language
Select the preferred language for the application's user interface.
Share Preferences
You can turn on and off share preference. When you will share your locations with someone these below-shown preferences will show if you keep it on and won't show if you keep it off.
Supported preferences :
Latitude
Longitude
Location Name
Address
Contact Number
Note
Date
Google Maps URL
Waze URL (waze app link, app similar to Google Maps)
Save Location ( saves link of location)
Coordinate Format
The coordinate format shows longitude and latitude on maps. These are supported formats.
Decimal Degrees (DD) - It shows longitude and latitude on maps in decimal degrees.
Degrees Minutes Seconds (DMS) - It is the oldest format for maps. It is shown as degree, minutes, and second. for eg. if the coordinates of the Eiffel Tower are 48°51'30.24″N, 2°17'40.2″E. You can read it as 48 degrees, 51 minutes, 30.24 seconds north and 2 degrees, 17 minutes, and 40.2 east.
Degrees Decimal Minutes (DDM) - DDM format is space between each line of latitude and longitude in 60 minutes. and also dividing them into decimals.
Universal Transverse Mercator (UTM) - The UTM system divides Earth into 60 zones with 6 degrees wide latitude. The zone numbers are from 1 to 60 and are shown from the Pacific Ocean which moves on the east side.
Default Navigation App
Supported navigation apps :
Google Maps
Apple Maps (available in iOS)
Waze Maps (works only if the Waze app is installed on your phone)
Request to Delete Data
You can send a request to delete your synced data via email.